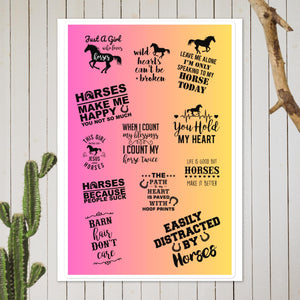 Unleash your passion for horses and express your love for equestrian elegance with the Pine River Stables Horse Lover's Kiss Cut Stickers – a collection of equine-inspired phrases that resonate with the soul of every horse enthusiast!
🐴 **Whimsical Equine Expressions:** Our kiss cut stickers feature charming horse lover phrases intricately designed to capture the essence of the equestrian spirit. From "Horses make me happy. You not so much" to "Easily distracted by horses," each phrase is a poetic celebration of the bond between rider and horse.
🎨 **Vibrant and Durable:** These stickers are not just words; they are works of art. The high-quality, vibrant printing ensures that each sticker is a visual delight, showcasing the majestic beauty of horses and the elegance of equestrian life. The durable materials make them perfect for indoor or outdoor use, allowing you to adorn everything from notebooks to water bottles with equestrian flair.
🌟 **Kiss Cut for Easy Application:** Our stickers are precisely kiss cut to make application a breeze. The unique cut ensures that each sticker peels off easily, leaving behind a clean and polished look. Transform your belongings into a canvas of equestrian expression effortlessly.
🎁 **Perfect for Gifting:** Searching for a thoughtful gift for the horse lover in your life? Look no further. The Pine River Stables Horse Lover's Kiss Cut Stickers make for a delightful and personal present. Whether it's a birthday, holiday, or just a spontaneous gesture, these stickers are sure to bring joy to any horse enthusiast.
🌿 **Support Sustainable Style:** Embrace a touch of eco-conscious elegance. Our stickers are made with sustainability in mind, using materials that are environmentally friendly and responsibly sourced. Feel good about expressing your love for horses while being kind to the planet.
🏇 **Versatile Decor:** Elevate your personal space, be it your laptop, water bottle, or riding gear, with these horse lover's gems. Let the world know about your passion for horses in a stylish and charming way.
Experience the joy of equine expression with Pine River Stables Horse Lover's Kiss Cut Stickers – where every word is a celebration of the bond between rider and horse. Order your set today and let your passion for horses shine wherever you go! 🐎✨
These glossy stickers are designed just for you. Give your favorite items, like a notepad, laptop, or phone case an extra glow and personal touch.
• Film type: MPI 3000 Gloss HOP (EU), Promotional Monomeric PVC (US)
• 0.12″ (0.3 cm) white sticker border
• Glossy finish
• Fast and easy application
• 2–3 year durability
• Indoor use
• Blank product sourced from Japan
Don't forget to clean the surface before applying the stickers.
Size guide
| | | |
| --- | --- | --- |
|   | HEIGHT (inches) | WIDTH (inches) |
| 5.83″×8.27″ | 8 ¼ | 5 ⅞ |